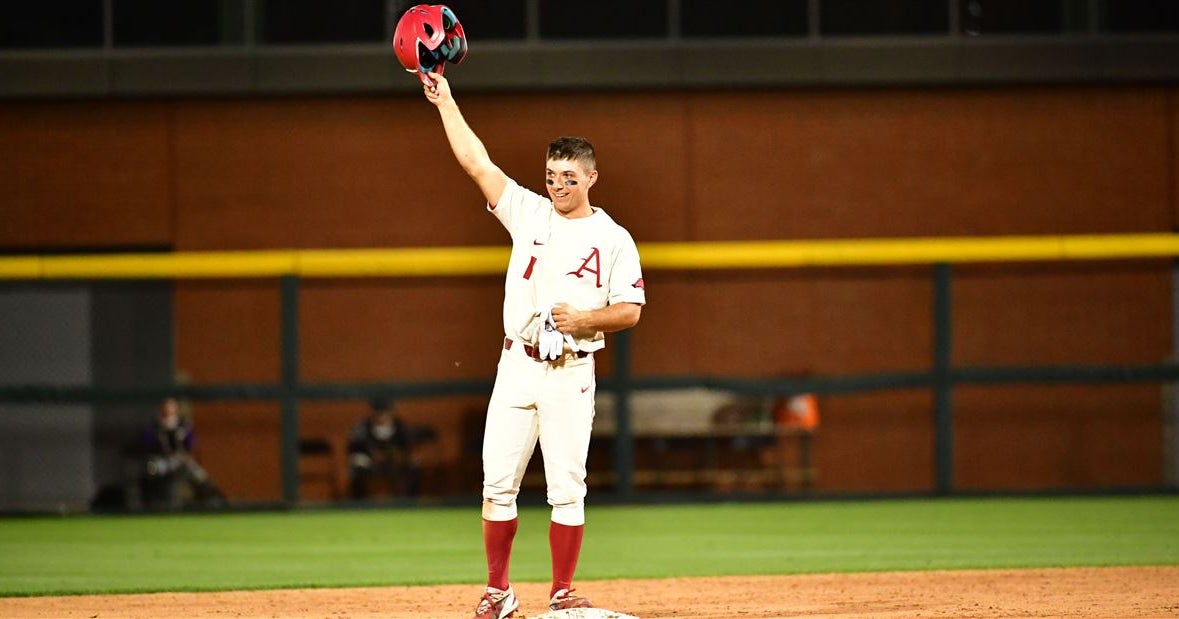 Arkansas Razorback Fall Baseball Recap: Infield
With Brady Slavens moving to the outfield and Battles of Jalen Recovering from a shoulder injury, there were plenty of new faces in the Arkansas infield during the fall. The Razorbacks should be strong in the middle with battles that should come back to shortstop and Robert moore at second base. A few newcomers will also be looking to find their way into a lineup of talented Hogs.
Seeker
Casey Opitz has been the heartbeat of the Razorbacks for the past three seasons. His impact on the team went beyond the stat sheet as he controlled the Arkansas pitching game and was a constant presence in the locker room. Whoever takes over this place will have big shoes to fill, but the Kent State transfer Michael turner watched the game this fall. Substituting Opitz's defense won't be easy, but Turner has good receiving skills and a strong throwing arm behind the plate. He also offers more threat offensively as a left-handed hitter with some pop. Turner won All-MAC first-team honors in 2019 when he hit 0.369 in 40 games. His 2021 season was cut short with a hamstring injury, but he made six homers in just 25 games and had a .337 batting average. For his career, he shot more walks (64) than strikeouts (59).
Unless something drastically changes by the start of the season, Turner will likely be the team's starting receiver. Second year Dylan leach saw action in 10 games last season and is a capable save. He's had his moments throughout the fall and he seems to be making some defensive progress. Leach will likely see some playing time on occasion, but it's worth noting that he's young for his class after signing up early at Arkansas a year ago.
Projected starter: Michael turner
First base
Several different players saw the weather at this location throughout the fall scrums. Peyton stovall is the most talented positional player in Arkansas' freshman class, and his bat will likely take him to an important role on the team. He played shortstop and third in the fall, but looked a lot better on first base in the fall World Series. He's an athletic player who might even be overqualified for that spot early on. Playing him early on makes a lot of sense, and it keeps his hard-hitting bat in the lineup.
Kendall diggs, another freshman with impressive hitting ability, spent some time at first base. Like Stovall, he's had some ups and downs defensively over the fall, but he has an impressive left-handed swing. Diggs rebounded from first and third and even played outfield for the Hogs this fall. He was a pleasant surprise in fall practice and could save some playing time even though he faces an uphill battle to be part of the everyday roster.
Projected entry: Peyton Stovall
Second base
Robert Moore is expected to be the Hogs' starting second baseman for the third straight season. Moore was an All-SEC first-team selection last season and was part of the conference's All-Defense squad. If Battles' shoulder injury forces him to run out of time early in the season, Moore could temporarily replace the shortstop. Either way, Moore will undoubtedly be an important piece for the Razorbacks and one of the most dynamic infielders in the country. Moore's 16 homers were fourth among all D1 second baseman in 2021.
If Moore were to get off or fill up at the shortstop, you might see someone like Ethan Bates at second base. Bates started games in the outfield for Arkansas last season and has played all over the infield this fall. He will be valuable as a left handed batsman on the bench and could fill in at first, second or third if necessary. First-year student Reece mcwilliams also played a lot on second base during the fall and has a strong glove.
Projected starter: Robert moore
Shortstop
This location will be determined by whether or not Battles of Jalen is healthy. He missed all of the fall practice after dislocating his non-throwing shoulder while playing summer ball. Battles should be ready for spring, and he will wear coach Van Horn's coveted No.2 jersey number. He is one of the best defensemen in the country and has shown flashes of potential at home. Battles have reached 0.269 in the season with six home runs and produced 0.351 in the last 12 games of the season.
First-year student Drake varnado struggled at home plate in the fall, but he's got a lot of talent and could be the shortstop of the future. He's an athletic player with a consistent glove, and he started to find a bit of offensive groove towards the end of the scrums. There's a chance he'll end up starting at third base for the Hogs, depending on how things go in the outfield. He brings a lot to the table as a player so he's a guy to watch even though he's not part of the starting lineup.
Projected entry: Jalen Battles
Third base
Like last season, this position could be the most open in the roster, but for different reasons. Second year Cayden wallace is likely to be an All-SEC preseason guy and could easily fill that spot. He was named to the SEC's All-Freshman team in 2021 after reaching 0.279 with 14 home runs. The question will be whether or not it is necessary here or in the outfield. I think Arkansas has more than enough talent to suffice in the outfield, and Wallace moving up to third helps get the top nine on the roster.
Maybe a freshman like Varnado or Diggs is proving too good to sit on the bench for long, which would put them in third and move Jace Bohrofen or Braydon Webb out of the roster. Bates could also be a factor in this battle if he hits more consistently than the outfield picks. There are several realistic possibilities of how this will play out, but Wallace being on third base to start the season makes a lot of sense. In fact, we'll likely see a plethora of these combinations throughout the year.
Projected entry: Cayden Wallace
ICYMI: Outfield Recap – HERE