Image 1 of 12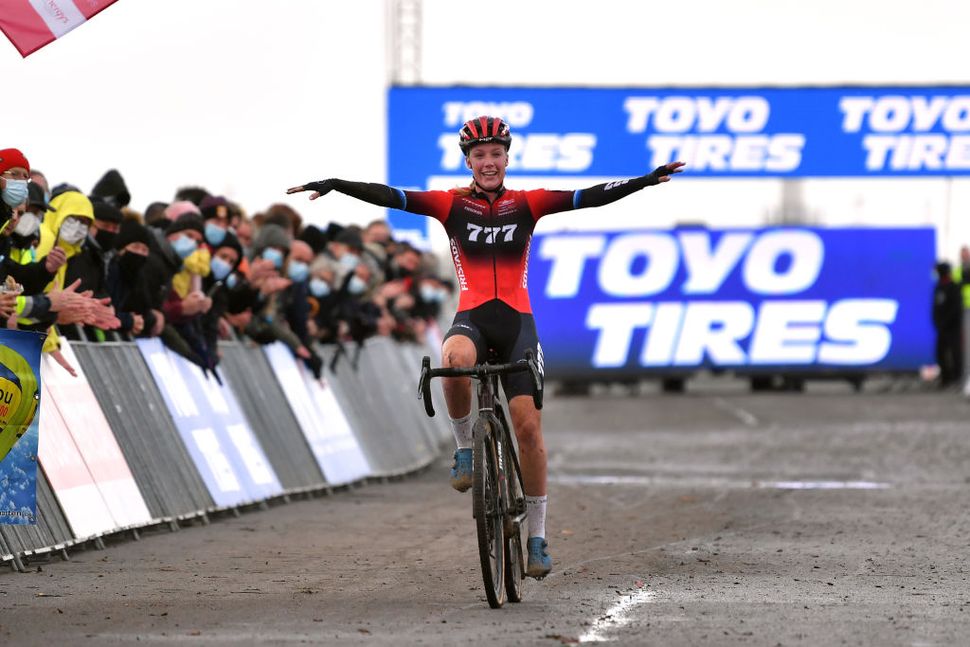 Image 2 of 12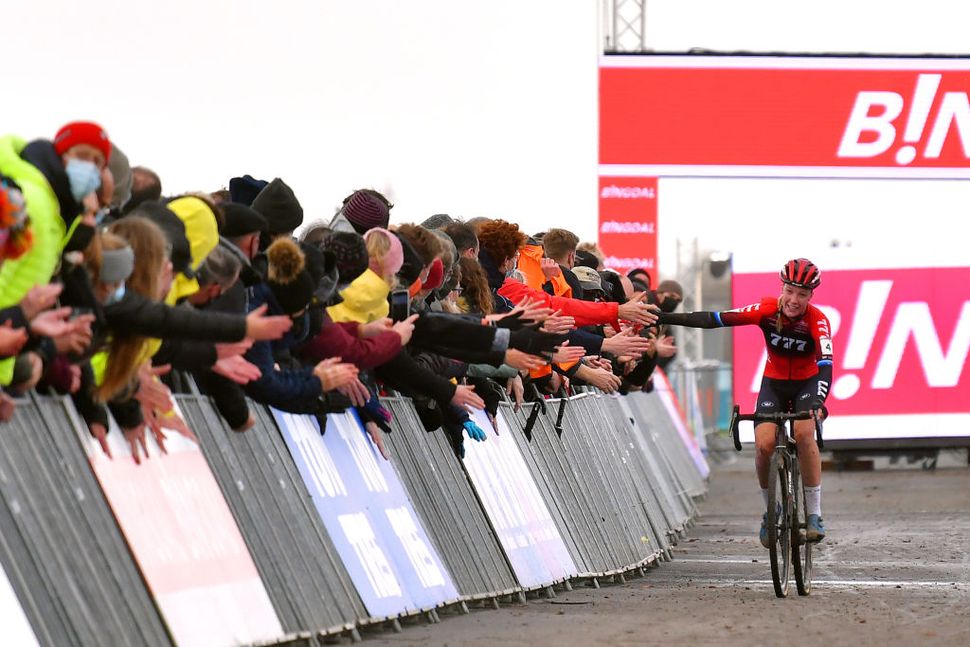 Image 3 of 12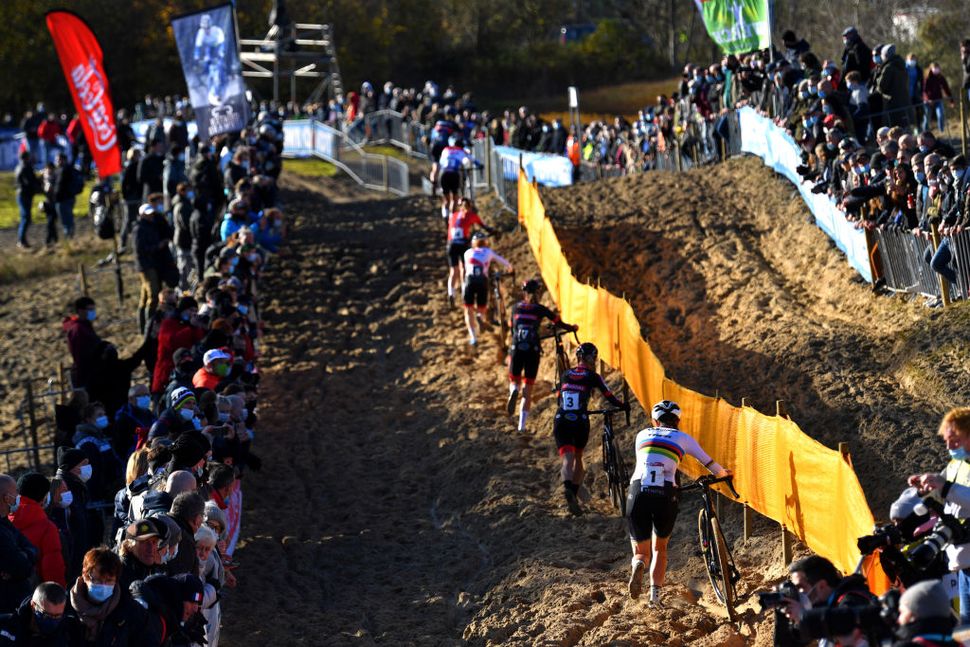 Image 4 of 12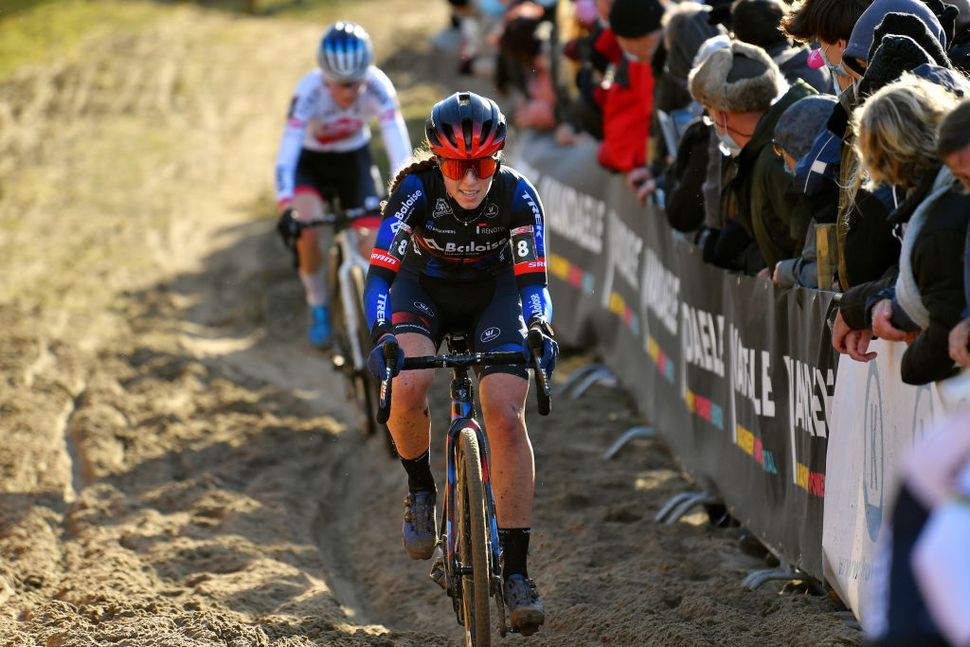 Image 5 of 12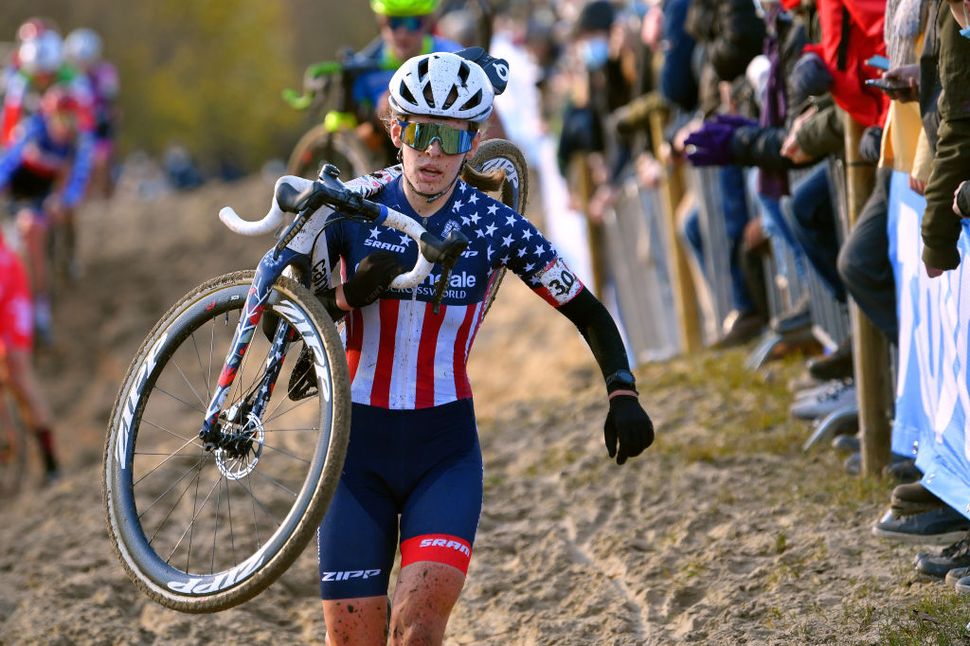 Image 6 of 12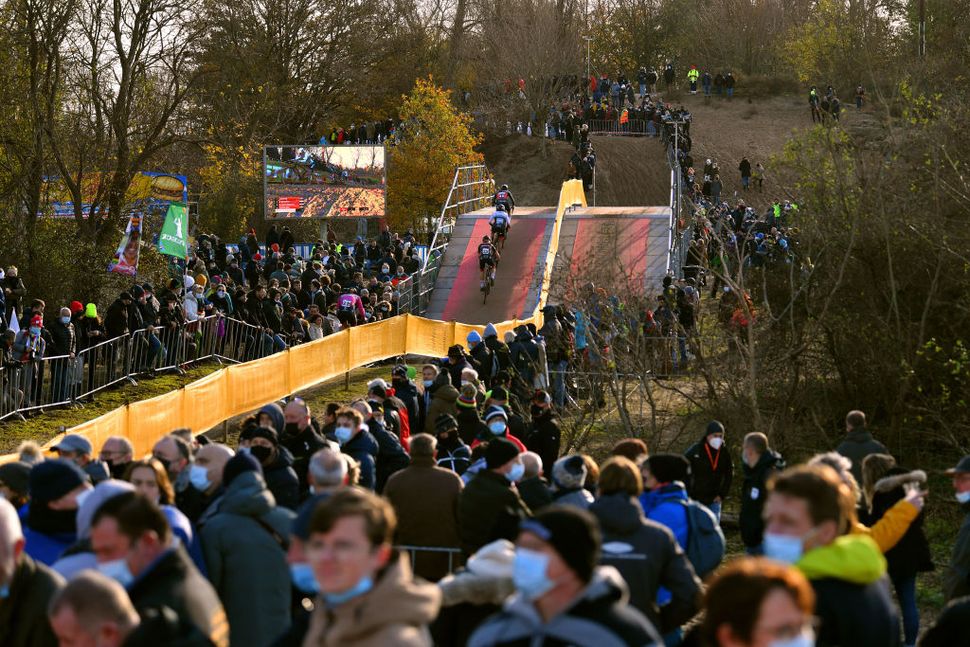 Image 7 of 12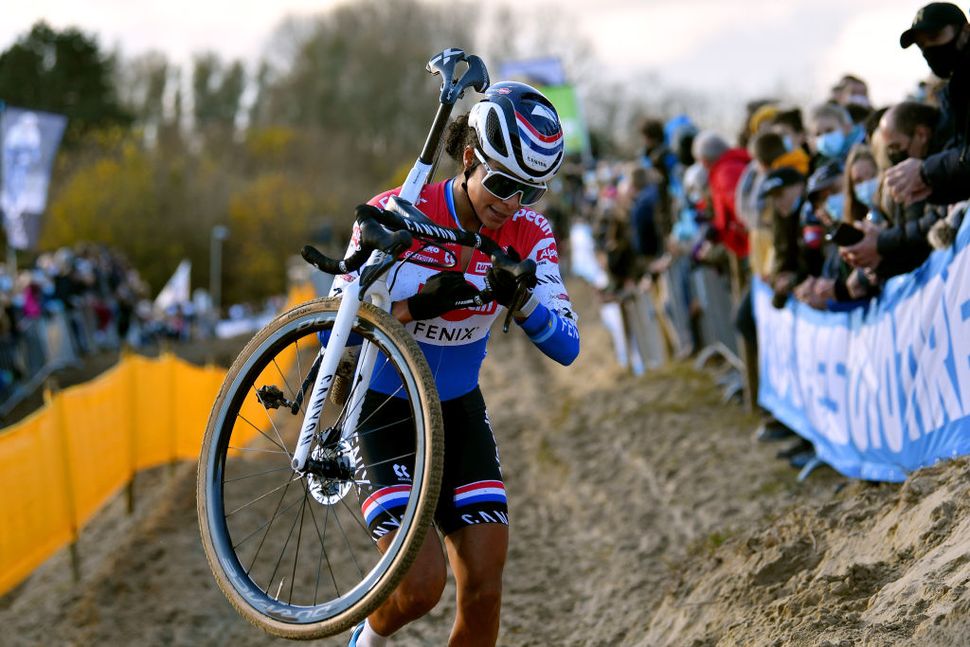 Image 8 of 12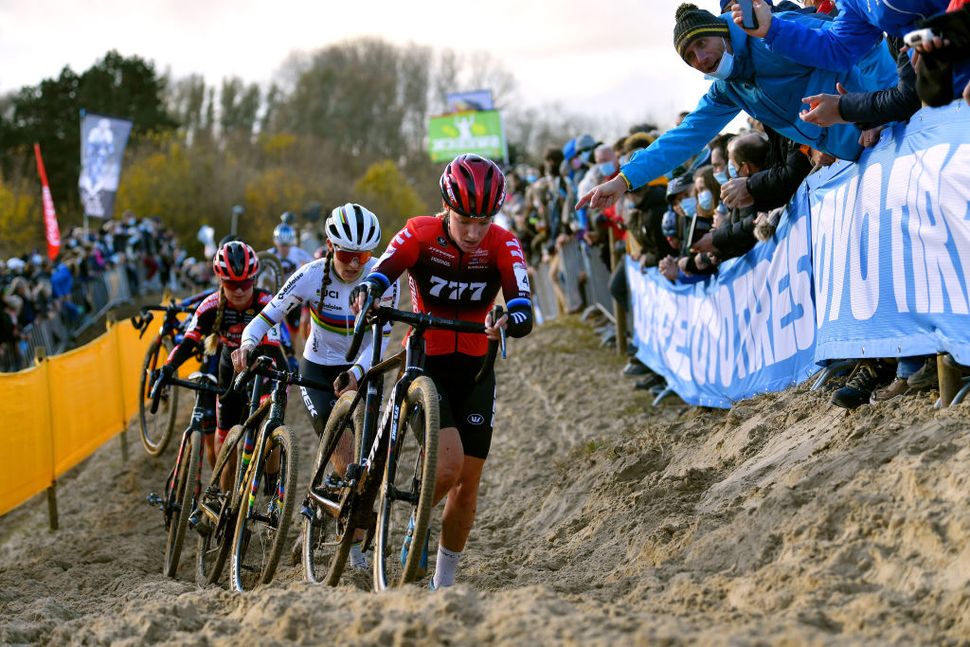 Image 9 of 12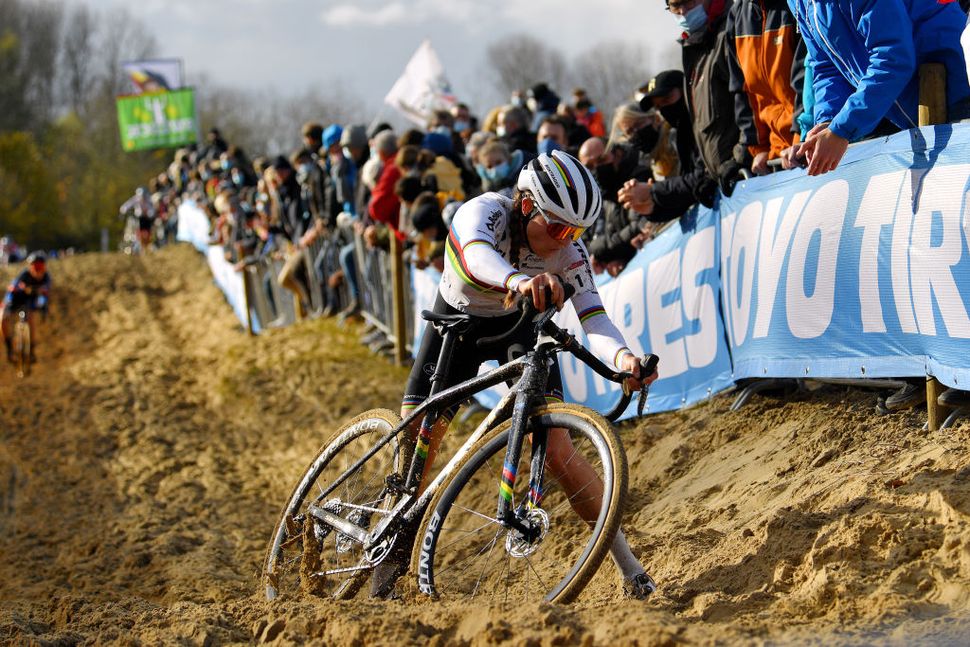 Image 10 of 12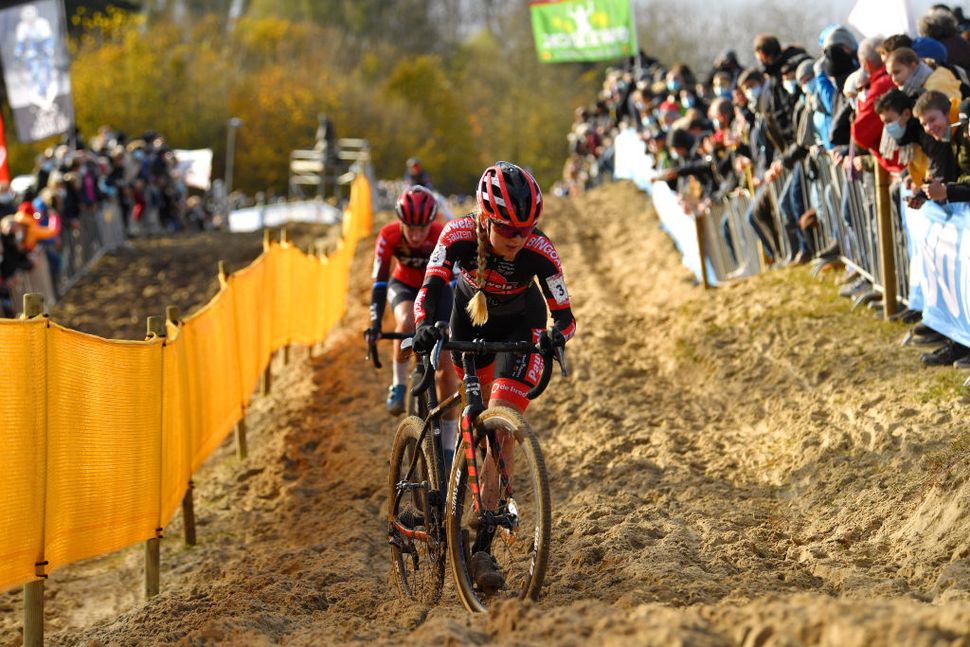 Image 11 of 12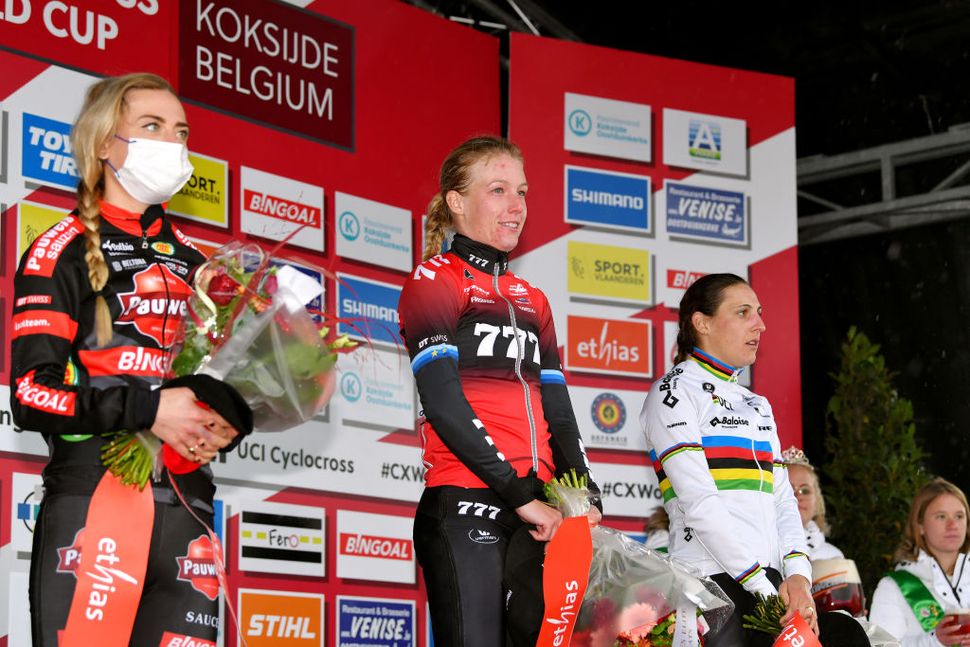 Image 12 of 12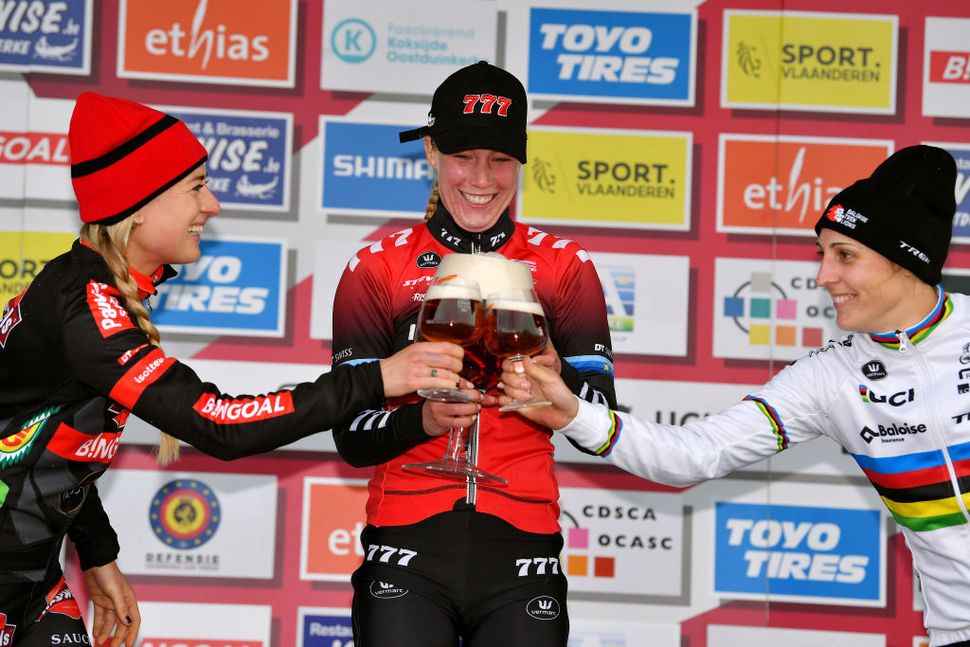 Annemarie Worst (777) mastered the sand dunes of Koksijde to claim her first victory in over a year in the seventh round of the UCI Cyclo-cross World Cup.
The Dutch attacked on the penultimate lap, overtaking Denise Betsema (Pauwels Sauzen-Bingoal) then sinking into the sand to build up a winning margin.
Betsema was second, 17 seconds behind, after fending off a late charge from world champion Lucinda Brand (Baloise Trek Lions), who got off to a slower start due to a hectic opening sand section.
It was an emotional victory for Worst who had to get back in shape after a serious mountain biking accident that required shoulder surgery last year.
"It's really important to me," Worst said. "I started the season really well, but then I felt my back was not very good so it was good to finally win again.
"My form was really good today. At first I was not very confident, but with each turn my confidence grew. I'm really happy with it.
How it went
Cyclocross racing has returned to the Koksijde sand dunes for the first time in two years after last year's event was canceled due to COVID-19 restrictions.
Fem Van Empel (Pauwels Sauzen – Bingoal), who pulled away the fastest from the fast start on asphalt, led in the first corner and the first steep climb of the sand dunes.
Under-23 rider Shirin Van Anrooij (Baloise Trek Lions) showed her skills and was able to ride the majority of the long Herygers Dune, leading the way in the first lap.
World champion Brand had a less successful start and ended up in eighth place after the first sections of sand.
Ceylin Alvarado (Alpecin – Fenix) won the last event held in Koksijde two years ago and showed his skills in the deep sand to close the gap on the lead Van Anrooij.
After the first lap, a group of seven riders were 23 seconds ahead of the rest and consisted of all the favorites. After her impressive first lap, Alvarado suffered a mechanical loss of time in the top group as she changed bikes.
Across the long section of Herygers Dune, Worst charged into the sand and opened up a gap over his rivals. Betsema won at Koksijde in 2018 and was equally accomplished crossing the sand, closing the gap with the worst after the second round. Brand, who won his world title on the beach in Ostend, was in third place ahead of his teammate Van Anrooij.
With two laps to go, the leading duo had a gap of 16 seconds over Brand and Van Anrooij five seconds more.
In the penultimate lap, Worst bid for glory by crossing heavily over Dune Herygers to increase a margin of four seconds over Betsema. Worst continued to establish his lead margin at 12 seconds as Brand used his strength to push Betsema back in the fight for aggregate points.
At the last lap bell, Worst led 12 seconds behind Betsema, while Brand looked solid six seconds behind. Worst, 25, from Nunspeet, kept his pace on the final lap and had time to celebrate his first win since the Koppenbergcross last year.
Betsema finished strong on the last lap taking second place at 17 seconds while Brand's late charge faded on the last lap, finishing third some 37 seconds behind Worst.
Brand retained his World Cup leader's jersey, but saw his lead reduced to 14 points ahead of Betsema with nine innings to go. The World Cup series continues next Sunday in Besançon, France.
Results

| Pos. | Rider's name (country) Team | Results |
| --- | --- | --- |
| 1 | Annemarie Pire (Ned) 777 | 0:46:31 |
| 2 | Denise Betsema (Ned) Pauwels Sauzen-Bingoal | 0:00:17 |
| 3 | Lucinda Brand (Ned) Baloise Trek Lions | 0:00:37 |
| 4 | Shirin van Anrooij (Ned) Baloise Trek Lions | 0:00:49 |
| 5 | Ceylin del Carmen Alvarado (Ned) Alpecin-Fenix | 0:01:10 |
| 6 | Fem Van Empel (Ned) Pauwels Sauzen-Bingoal | 0:01:26 |
| 7 | Puck Pieterse (Ned) Alpecin-Fenix | 0:01:54 |
| 8 | Inge van der Heijden (Ned) 777 | 0:02:11 |
| 9 | Yara Kastelijn (Ned) Iko-Crelan | 0:02:22 |
| ten | Clara Honsinger (United States) Cannondale-Cyclocrossworld | 0:02:30 |
| 11 | Eva Lechner (Italy) | 0:02:45 |
| 12 | Sanne Cant (Bel) Iko-Crelan | 0:03:03 |
| 13 | Alice Maria Arzuffi (Italy) | 0:03:16 |
| 14 | Perrine Clauzel (Fra) AS Bike Crossteam | 0:03:30 |
| 15 | Marion Norbert Riberolle (Bel) Starcasino CX Team | 0:03:33 |
| 16 | Team Anaïs Morichon (Fra) Royalbikeshop.com | 0:03:36 |
| 17 | Silvia Persico (Italy) | 0:03:55 |
| 18 | Manon Bakker (Ned) Iko – Crelan | 0:04:00 |
| 19 | Hélène Clauzel (Fra) AS Bike Crossteam | 0:04:08 |
| 20 | Marthe Truyen (Bel) Iko-Crelan | 0:04:10 |
| 21 | Anna Kay (GBr) Starcasino CX Team | 0:04:41 |
| 22 | Zoe Backstedt (GBr) | 0:04:53 |
| 23 | Amandine Fouquenet (Fra) | 0:04:56 |
| 24 | Aniek van Alphen (Ned) 777 | 0:04:57 |
| 25 | Laura Verdonschot (Bel) Pauwels Sauzen – Bingoal | 0:05:01 |
| 26 | Alicia Franck (Bel) Proximus – Alphamotorhomes – Doltcini CT | 0:05:19 |
| 27 | Ellen van Loy (Belgium) | 0:05:42 |
| 28 | Katie Clouse (United States) Cannondale-Cyclocrossworld | 0:06:03 |
| 29 | Kiona Crabbé (Belgium) | 0:06:21 |
| 30 | Lucia Gonzalez Blanco (Spa) Team Nesta-MMR CX | 0:06:26 |
| 31 | Suzanne Verhoeven (Belgium) | 0:06:31 |
| 32 | Léonie Bentveld (Ned) | 0:06:33 |
| 33 | Olivia Onesti (Fra) Starcasino CX Team | 0:06:54 |
| 34 | Lauriane Duraffourg (Fra) AS Bike Crossteam | 0:07:28 |
| 35 | Team Marie Schreiber (Lux) Tormans-Circus Cyclo Cross | 0:07:51 |
| 36 | Julie de Wilde (Bel) Iko – Crelan | 0:07:52 |
| 37 | Lucia Bramati (Italy) | 0:07:55 |
| 38 | Fauve Bastiaenssen (Bel) Bns Technics – Groep toM | 0:08:06 |
| 39 | Julie Brouwers (Bel) | 0:08:24 |
| 40 | Jinse Peeters (Bel) Proximus – Alphamotorhomes – Doltcini CT | 0:08:53 |
| 41 | Sidney Mcgill (Can) | 0:10:02 |
| 42 | Josie Nelson (GBr) Team Spectra Wiggle p / b Vitus | 0:10:13 |
| 43 | Camille Devigné (Fra) | |
| 44 | Xan Crees (GBr) Team Spectra Wiggle p / b Vitus | |
| 45 | Rebecca Gross (United States) | |
| 46 | Allison Arensman (United States) Velorevolution wp Cycles | |
| 47 | Corey Coogan Cisek (United States) Velorevolution wp Cycles | |
| DNF | Millie Couzens (GBr) | |